Venue
Antoniushaus Mattli in Morschach is a meeting place operated by the Franciscan community of Switzerland. It provides accommodation for about 100 people, meeting rooms of various sizes, and a restaurant/cafeteria.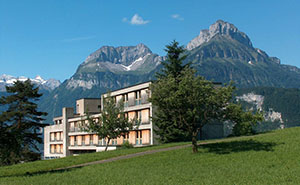 If you are after pubs, restaurants and nightlife, then sorry... as you might have guessed, Morschach is not exactly famous for that. However, we probably agree that the most important part of such a workshop is meeting people, talking to and working with each other, and for this a location where all participants stay in one place seems perfectly suited. Last but not least, Morschach is easy to reach (~90min. from Zürich Airport), and hopefully we will have nice weather so that everybody can enjoy the beautiful landscape around...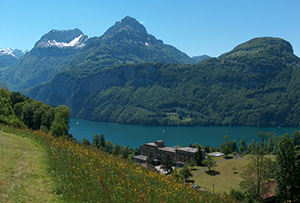 Antoniushaus provides different types of rooms, some come with separate bathrooms, others have a shared bathroom only, which also shows as a slight difference in price. The price per person and night should be around 100-130 Sfr. (~75-100 EUR as of Oct 14, 2010), including three meals/day. In order to accommodate as many people as possible, please try to share rooms (we will try to help finding room mates via registration).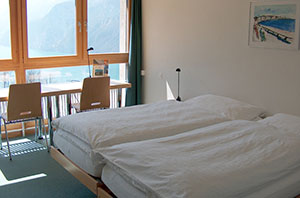 As an alternative option there is the Hotel "Swiss Holiday Park", that is located in easy walking distance to Antoniushaus. A double/single room including breakfast here costs around 105/155 Sfr. (79-115 EUR as of Oct 14, 2010). There is also the option of having lunch and dinner at Antoniushaus, but, of course, this has to be paid for.
The pictures on this page are shown with friendly permission of Antoniushaus. You can find these and more on their website.